Kim Khanh Marine Services is your destination for ship cleaning. With our Ship Cleaning department, we provide tailored solutions for the cleanliness and hygiene needs of your ship fleets. Our experienced team and high-quality standards ensure professional cleaning from the exterior to the interior of your vessels.
Exterior Surface Cleaning
Over time, ship exteriors can become dirty and damaged due to salt, lime, and environmental factors. With our ship exterior cleaning service, we conduct cleaning processes that enhance the shine and efficiency of your vessels.
Tank Cleaning
Depending on the cargo, ship tanks can accumulate dirt, sediment, and residues. Through our ship tank cleaning service, we perform effective cleaning processes to maintain cargo capacity and uphold hygiene standards.
Interior Cleaning
Regular cleaning is essential for ship interiors to ensure crew comfort and passenger satisfaction. Our ship interior cleaning service presents your vessels' interiors in a refreshed and clean manner.
Rust Cleaning and Prevention
Rust on ship surfaces can adversely affect performance and lead to serious damages. With our rust cleaning and prevention service, we ensure your vessels are well-protected.
Environmentally Friendly Cleaning Solutions
At Blue Octopus, we prioritize environmental consciousness. The products and methods we use for ship cleaning are eco-friendly and sustainable.
Why Choose Us?
Experienced and Expert Team
Our Ship Cleaning department operates with a specialized and experienced team dedicated to ship cleaning. We combine knowledge and expertise to achieve the best results in ship cleaning.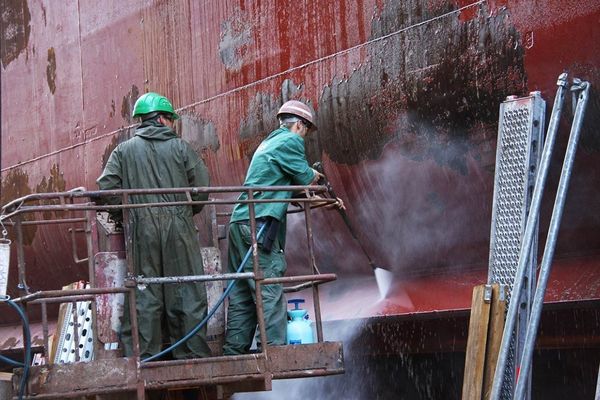 Reliable and Timely Service
Valuing customer satisfaction, we take care to provide timely services. Our ship cleaning processes are carried out according to your schedule.
High-Quality Products and Equipment
To achieve optimal results in ship cleaning, we utilize high-quality cleaning products and equipment.
For your ship fleets' cleaning and hygiene needs, partner with Kim Khanh Marine to confidently regain the sparkling and well-maintained appearance of your vessels.
Kim Khanh offer quality cleaning and maintenance services for the marine industry. We do our work flexibly and professionally.
Ship cleaning services
Ship bilge cleaning services
We can also provide a range of ship bilge cleaning services, including:
Cleaning of cargo holds and cargo decks
Hydroblasting of tanks, decks, superstructure etc. with up to 3,000bar equipment
Cleaning of funnel and casings
Boiler cleaning or cleaning of heat exchangers
Cleaning and conservation of engines and machinery after water ingress or fire in engine room or cleaning of oil spills with ASTQ Total care concept.
Pressure washing for ships
Pressure washing means the cleaning of various surfaces with clean water. Different types of particles, such as sand, can be added to pressurised water to enhance cleaning efficiency or to profile the cleaned surface. The pressure washing equipment covers a pressure range from 500 to 3,000 bar.
High-efficiency vacuum cleaning for ships
High-efficiency vacuum cleaning offers suction and blowing for the handling of both dry and wet materials. The material is sucked into the tank of the unit, in which the material can be transported to the destination and discharged either by tipping of blowing.
The equipment can be used for a wide variety of applications, also at sites which are difficult to reach: in industries, building sites, ports etc. Low sound level also enables use in urban areas. The equipment can handle almost all materials that fit into the pipe of the unit (152 mm).
Despite its high efficiency, the unit is completely safe and fulfils stringent safety requirements.